Calvados recipes
Here's a recipe for calvados sauce that shows how well calvados works in the kitchen, especially in sauces.

Easy creamy calvados sauce
This sauce tastes delicious with white meat like chicken, veal or fish.
4-6 servings
1.5 dl (5 oz) double cream
4 dl (10 oz) stock (veal or chicken for meat, fish for fish)
8 finely chopped mushrooms
3 cl (1 oz) of calvados
1 teaspoon of cornflour
Simmer the cream, stock and mushrooms for 20 minutes. Whisk the cornflour with the calvados and stir in the sauce. Season with salt and pepper.

Read more in my book about calvados.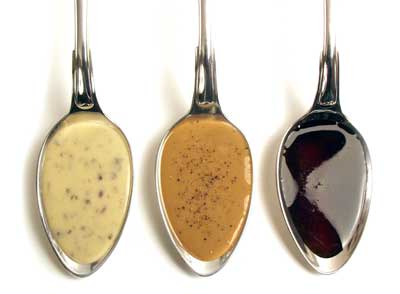 Three easy recipes for sauces flavoured with calvados. Use a young calvados like Fine or Vieux with fresh apple tones (older calvados seemes like a waste of money). From left: creamy calvados sauce, calvados and pepper sauce and calvados Teriayki sauce. Photo: Henrik Mattsson.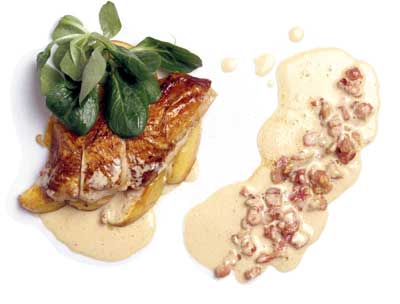 Chicken with apples in creamy calvados sauce with bacon and mushrooms. A recipe with typical ingredients from Normandy. Serve with sparkling cider from Normandy. Photo Henrik Mattsson.

Please order the book on calvados for more recipes:

Read more in my book about calvados.