Useful reading

Recommended literature on calvados apple brandy
Currently there is one book written in English on calvados apple brandy. Of course you ought to have Henrik's book, shouldn't you?

Buy and read more about calvados in my book.

Travelguides on Normandy and Calvados
There are several travelguides to Normandy and Calvados covering the area in general - all of cours mentioning calvados apple brandy.

Recommended travelguides:
The Rough Guide to Brittany and Normandy - all about travelling to Normandy.

Normandy (Eyewitness Top 10 Travel Guides)
Beautifully illustrated.

Brittany and Normandy. Good value for money from Lonely Planet.

Normandy Green Guide (Michelin Green Guides) is handy, comprehensive and small.

Restaurantguides
The Michelin Red Restaurant Guide for France is essential to find decent places to eat - check out the category for restaurants with good value for money.

Guides for accomodation
To find places to stay I recommend the 1000 Charming Hotels and Guesthouses in France (Michelin Guides)


Maps
Michelin maps are detailed and I myself like the historical map and the Green guides.

Michelin France, Normandie (Normandy) Map
Covers all of Normandy.

Calvados - a detailed map if you travel around to visit producers in Calvados and Pays D'Auge. Michelin also have detailed maps over Orne (south of Calvados), Manche
(the peninsula west of Calvados) and Eure (East of Calvados).


Historical reading
Talking about historical maps there are tons of litterature covering the World War 2 invasion on D-day.

I recommend:

Michelin Historical Map : Battle of Normandy - a good map to travel by when visiting the area.

No Holding Back: Operation Totalize, Normandy, August 1944


Parachute Infantry: An American Paratrooper's Memoir of D-Day and the Fall of the Third Reich


Currahee!: A Screaming Eagle at Normandy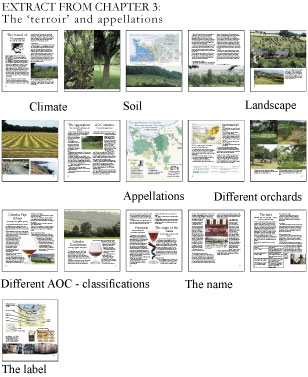 The book about calvados (extract above) is a first in comprehensive reporting in English on calvados apple brandy and tells you about:
- The history of calvados. From the first apple to modern day production.
- The area and region of Calvados in Normandy, France.
- How calvados is made - from apple to bottle.
- How to taste and enjoy calvados. Aromawheel. Food and cigarr pairing.
- Calvados role in the gastronomy of Normandy, recipes and drinks.
- A phone and address directory of the producers, both large and small
- A gastronomic tour guide.
- A useful map of where to find the calvados procuders.
- Glossary to the calvados vocabulary.