CAMUT

CAMUT

Domaine de Sémainville
27210 LA LANDE SAINT LEGER
Tel: 02 32 57 82 01, Fax: 02 32 57 19 99
Agathe.camut@wanadoo.fr

Welcome visitors by appointment. Is quite hard to find but worth it. Very high quality award-winning and old calvados available. Genuine Pays d'Auge mansion, orchards and cellars. Read more in my book about calvados.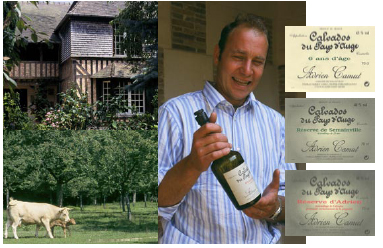 A cow and her calf in the orchard near the Camut mansion. The grandson of the late Adrien Camut with a bottle of calvados dating from his ancestors.