BOULARD S.A.C.B.

14130 COQUAINVILLIERS

Award-winning high quality calvados Pays d'Auge made with attention to tradition on large scale. The homepage, estate and cellars of Boulard are well worth a visit. Everything about Boulard is well organized and enjoyable if you don't mind the tourist approach. Boulard is one of the largest exporters of calvados Pays d'Auge and 80 percent of their produce ends up on tables all over the world. Their homepage is informative and you can read that the Boulard family have run the company for 170 years, take a look at old labels or indulge in recipes and much more. Boulard's cellar door sales contain a unique restaurant called 'Bistrot Normand' with tables inside giant barrels and Norman dressed staff serving traditional food (with lots of cream and cider). Guided tours. Their range includes, apart from cider and pommeau, Grand Solage (3–5 years), XO (8–15 years), Hors d'Age (10–20 years), Vintages (for example 1973) Carafe 21 years old.

Boulard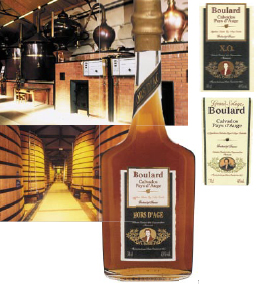 Boulard have several traditional alambics in production (top). Giant
oak barrels - 'Cuvé Tronconiques' - at the Boulard production
facilities.